by kalyani10
An ambitious guy is easily one of the types that women find irresistible. He is a go-getter, exuding confidence and sometimes not even above using a partner to achieve his ends. Incredibly this only makes him more attractive to some women. So if you believe your boyfriend too is keen to climb the ladder, here are a few things to keep in mind.

Aspiring to success

One of the best things about dating an ambitious man is that he is primed for professional and financial success. He is a guy who dreams of making it to the top of the professional ladder and has enough grit and competence to get him there. A woman is attracted to him because she knows that if she can stick long enough with him, she may find a life of luxury and indulgence awaiting her down the line. This is much better than dating the laid-back type who is content to stay with his mom and live off his family or girlfriends. When dating an ambitious man you know that sooner or later he will realize his goals and when he does that, you have a fair chance of basking in his financial and professional success.
TIP: Millionaire Match has many ambitious and rich men from USA, Canada and Europe looking for women to woo, date and marry.

Self-assured

Apart from his professional drive and skills, an ambitious guy also scores on confidence and mental strength. There is nothing hesitant or half-hearted about this guy; he is completely assured of his goals and knows what he needs to do to achieve them. These are extremely attractive attributes especially to women who have been in relationships with losers before. Also being confident about one's own priorities and values ensures that there is no room for misunderstandings or false expectations and thus you know what to expect from this relationship.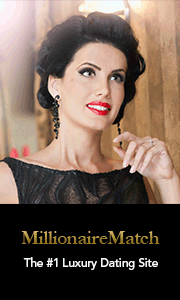 Well-groomed
One of the advantages of dating an ambitious guy is that he will be careful of his appearance. Much more than the take-it-easy type, this guy will ensure that he is dressed to impress. It is crucial for successful professionals and entrepreneurs that their personal style portrays an image of success and achievement so that potential clients and bosses take them seriously. When dating such a man, you can expect to be seen with a guy who is well-groomed and does not believe in turning up for dinner in torn jeans or wrinkled tees. He will probably spend more time before the mirror as compared the average Joe and yet not preen like a peacock like an actor or model. He will be smartly turned out without being exotic or conspicuous.


Where to meet them

Now that you are aware of the advantages of dating ambitious men, it is important to know where to find them. The most obvious place would be professional or commercial venues like banks, convention centers or even coffee shops in business districts. Here your go-getter may be busy with work but wait for lunch-hours or coffee-breaks to find time to chat him up and who knows you may land yourself a date on Saturday. Ambitious men would also spend a good deal of time networking with professional and business contacts so frequent exclusive clubs, upscale bars and high-end health resorts where you can find them willing to socialize. Indeed even charity galas and fund-raising dinners could be useful venues to meet a man who is determined to make his way into the world. This is because such events are where the rich and successful people gather and if your partner wants to mingle with the people who matter, he is likely to be found here.

Too busy for you

And yet before you begin your search for an ambitious partner or if you are already seeing one, keep in mind that the relationship may have its own share of challenges. Primary among them is of course that your boyfriend would be often be busy with work. This may mean his arriving late for your date on more than one occasion or even a couple of cancelled dinners. He would much prefer doing overtime to please his boss or racing ahead of competitors rather than spending a whole weekend with you. So despite being smart, confident and a pleasure to talk too, such a guy is likely to be a workaholic, pushing himself harder all the while to climb still higher on the professional ladder.

Emotionally unavailable

Even if your boyfriend is able to meet you for regular dates, he may not always be able to give you undivided attention. He may keep checking his cell phone or PDA since he will be reluctant to miss any phone call or text message from his workplace. Then again your partner may be unwilling to go on a vacation with you or even get away for a weekend break to a neighboring beach resort since it would mean staying out of the professional loop for a few days. Even the parties you attend together are more likely to be geared to his professional interest rather than you both having a good time with each other.

Suspicions about his motive

If your boyfriend is the highly ambitious kind, he may not be past using you to further his own ends. Thus he could be dating a real estate agent or a lawyer to gain insight into some aspect of his own professional goals. If you are part of the media or the entertainment industry then he may be using you to gain access to parties and premieres and in general garner important contacts. This is not to say that an ambitious guy is not capable of a honest relationship but when you know for certain that your partner's professional goals come before everything else, it is natural to have doubts about your actual worth in his life.

Dating an ambitious guy has its own share of pros and cons. While you may have to make room for your partner's priorities that do not necessarily match yours, you can be rewarded with relationship with an individual who is smart, confident and on his way to success.