by kalyani10
The world of the law – and its practitioners too – can seem cold and forbidding to hopes of a budding romance. And yet lawyers can make the most dependable of partners if one goes about it the right way. Here is a brief guide to dating a lawyer and the aspects that you would do well to keep in mind.
TIP: Click here to browse photo profiles of single wealthy lawyers in USA
Get comfortable with legalese

Lawyers like other driven professionals are passionate about their work and so it would help your dating relationship if you can share some of that enthusiasm. This however does not mean that you need to spout legal jargon – in fact your partner may look askance if you start doing that – or even memorize the fine points of civil and criminal law. But if you can keep abreast of the interesting legal cases in current news or at least show some familiarity with the ideas of crime and punishment, it will pique your lawyer partner's interest in you and let him/her know that there is more to you than an attractive face or physique.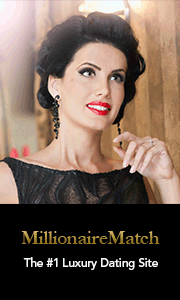 Expect to be indulged

The best part of dating a lawyer is of course that you can expect to be taken out in style. The legal business is one of the highest paid in America and depending on the field of expertise, reputation and location, a lawyer can expect to earn in millions per year. In fact according to 2008 figures from the US Department of Labor, the median annual wages of all wage-and-salaried lawyers was $110,590. But top firms in cities like New York and Washington D.C are reported to start salaries for first year associates at $160,000 plus a yearend bonus. Small wonder then lawyers are highly sought as dates by people who love to be wined and dined at the most exclusive addresses in town besides being pampered with lavish presents.

Know where to look

There are lots of places where one can come across single lawyers. Stylish pubs and cafes around legal chambers as well as the local courthouses bar are a few locations that you can explore. Drop in after working hours and look for the crowd in suits, long after others may have changed into casual wear. Also wrangle invitations to social events in the legal community like fundraising dinners or bar association functions. Gaining an entry to exclusive golf resorts or clubs for rich and successful lawyers may be more challenging but the advantage of these venues is that the members are likelier to be relaxed and more amenable to a social encounter. At the same time don't forget the power of the virtual world. There are lots of dating websites like which specifically cater to relationship requirements of lawyers.

Be careful of your appearance and behavior

Lawyers are usually conservative by nature and are not comfortable with display of highly individualistic fashion or behavior. So if planning to go with your lawyer lover, take care to tone down the color of your dress/jacket and keep accessories to a minimum. However since they also have an acute judgment of material things, you can expect your partner to notice and appreciate a solitaire on your throat or the custom-designed watch on your wrist. At the same time, refrain from loud or upstart behavior especially if you want to see your partner again. And in case he/she confides professional matters in you, be sure to keep them to yourself. Few values matter more to lawyers than discretion and integrity.

Be prepared to make sacrifices

Like any other lucrative profession, the practice of law imposes great demands on a person's time. So when dating a lawyer, you must realize that he/she will be working long hours and may even be swamped on the weekends. An essential part of a lawyer's work routine involves waking up early for court timings and much preparation the night before. So while your friends may be busy dancing away till the wee hours of Sunday morning, you may find your partner up to neck in his workload. At these times you need to exercise patience and understand that your partner's unavailability has nothing to do with you. Also once you consider that a trial lawyer holds the fate of a client in his/her hands, it will be much easier for you to accept and appreciate the kind of work that he/she does.

Lawyers are often seen as cold and conservative

While this may be something of an exaggeration, it is likely that due to the nature of their profession, lawyers are much more grounded in facts and figures. So it may be difficult for them to be swayed by pure emotion and always respond in a sensitive manner. On the other hand, if you are a person who constantly needs emotional support and evidence of sensitivity from a partner, you may need to think twice before dating a lawyer. Their objective and calculative natures expect a degree of emotional independence in a partner and the ability to sift facts from feelings and intuitions.

Be wary of pitfalls in future

However if you do plan to take your relationship with a lawyer to a more committed level, consider what risks you run in case the marriage or live-in arrangement does not work out. In a divorce, a lawyer is bound to have the upper hand and even if you have a genuine case against your partner, he/she might be able to take advantage of legal loopholes to get a better deal.

Be realistic

Finally be realistic of your goals in a relationship with a lawyer. They are naturally cautious people and would think a thousand times before committing themselves to a more serious relationship. So if you find yourself losing patience with your partner and wondering if he/she will ever propose or accept your proposal, take a deep breath and learn to keep faith. On the other hand however if you find that your expectations don't seem to match your partner's, approach him/her with a frank talk about your relationship. Being a lawyer, your partner is likely to discuss things in a calm and objective manner and make a genuine effort in finding a workable solution.