by Futurescopes Research Team
Known as the Bread Basket of Canada, Saskatchewan is a province in the Prairie region of the country. In recent times though Saskatchewan has seen a diversification of its economy from agriculture to services and mining. All these have made Saskatchewan a great destination to work and live in Canada and if you are looking for wealthy singles, this might be the place for you.

Get to know the Rich Farmers

Traditionally Saskatchewan's economy was primarily associated with agriculture, as indicated by the appearance of sheaves of wheat depicted on the coat of arms of the province. Agriculture is the root of Saskatchewan's economy and accounts for over one-third of the province's total exports. Over 40 per cent of Canada's farmland totaling more than 60 million acres is in this province and approximately 33 million acres of agricultural land is used for crop production each year1. Wheat is thus the predominant crop while and most often associated with the provincial identity too. Other grains like canola, flax, rye, oats, peas, lentils, canary seed, and barley are also produced.

Saskatchewan exports over $1 billion in each of the three key product sectors: cereal grains (wheat, oats, rye and barley), oilseeds (canola and flax) and pulses (peas and lentils). The province has over six million hectares of pastureland and large quantities of high-quality feed, making it an ideal place for livestock development. Saskatchewan has 1.3 million beef cows, or just over 30 per cent of the Canadian beef cow herd, making it the second-largest beef-producing province in Canada.

The highly lucrative base of agriculture and other farm-based economic activities imply that farmers and ranchers are some of the most successful people in Saskatchewan and if you are lucky you may get to know them at country fairs or farming events in places like Hague and Henley.
TIP: Millionaire Match has many single millionaire men from Saskatchewan, Canada looking for women to date and marry.

The Wealth of the Land

Oil and natural gas production is also a very important part of Saskatchewan's economy, Saskatchewan is the second largest oil producer in Canada after Alberta, accounting for more than 20% of the total Canadian oil production2: Heavy crude is extracted in the Lloydminster-Kerrobert-Kindersley areas. Light crude is found in the Kindersley-Swift Current areas as well as the Weyburn-Estevan fields. Natural gas is found almost entirely in the western part of Saskatchewan, from the Primrose Lake area through Lloydminster, Unity, Kindersley, Leader, and around Maple Creek areas. Saskenergy - the province's main supplier of natural gas - and Saskpower are the main energy companies of the province. Saskpower is a major employer in the province with almost 2,500 permanent full-time staff located in 71 communities.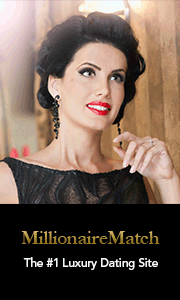 Saskatchewan is also endowed with an abundant supply of natural resources. As a result of having been submerged under a prehistoric ocean, the province has an estimated 75% of the world's potash reserves Saskatchewan also has large deposits of a relatively high grade of uranium, which is mined and processed into yellowcake for international markets. Saskatchewan is now the largest uranium-producing region in the world, accounting for 25% of annual world uranium production in 2002. Thus if you wish to be dated by the wealthiest singles of the province, a good idea would be to mingle with industrialists associated with oil and mining companies as well as its professionals like managers and engineers.
Seek out the Rising Professionals
The service-producing parts of the economy have grown significantly faster than the goods-producing sectors, accounting for about 62% of the total gross domestic product in 20023. The finance, insurance and real estate sector and commercial transportation operators account for more than 20% of the province's economic activity and employ more than 11% of its work force. Furthermore, there are thousands of firms offering business and personal services, employing more than 100,000 workers in what is increasingly becoming the backbone of the commercial and public activity; among those are more than 20,000 professional, scientific, technical and managerial service providers such as lawyers, accountants, computer supply firms, and engineers. Most major Canadian banks and financial services companies have offices in Saskatoon serving the local community. Saskatoon is the home for the head office of First Nations Bank of Canada, Concentra Financial, Affinity Credit Union, and TCU Financial Group. Saskatoon is also home to the Canadian Light Source, Canada's national synchrotron facility.
Places like the Heritage Inn Saskatoon are venues to meet successful business travelers having a power lunch or unwinding after a hectic day. another idea would be to drop in on events or conventions held at venues like Innovation Place which brings together almost 150 agriculture, information technology, and environmental, life sciences and agricultural biotechnology industries in a science park or technology park setting.
Well-to-do Employees of the State
A small number of very large employers like local governments, health and school boards, utility corporations – employ a large portion of the workers in the service-producing economy. In 2002, the federal, provincial and local governments, combined, employed 27,200 workers, or about 5.6% of the total workforce4; in addition, the publicly funded and managed health and education sectors employed in aggregate more than 87,000 in 2002. So look out for the professionals and officials employed with Crown Investments Corporation of Saskatchewan (CIC) subsidiaries who are sure to take home a decent pay packet not to mention enjoy some of the best working conditions in the country.
Mingle with the Big Shoppers
The retail sector has emerged as another major driver of the economy of Saskatchewan in recent years, earning around $9 billion for the province annually, The downtown core of Saskatoon is seeing increased development with projects such as River Landing, lofts and entertainment going ahead. Located in the downtown core, Midtown Plaza is the largest shopping centre in the city with Sears Canada and The Bay as anchors. The city is also home to Market Mall and The Centre on the east side, Confederation Mall on the west side and The Mall at Lawson Heights in the north end. In recent years, the province has been embracing the big-box store format that replaced the traditional shopping mall. The opening of the city's first power centre, Preston Crossing, in 2002–2003 saw several major retailers such as Wal-Mart Canada and Canadian Tire leave their original shopping mall locations in favor of the new sites. The presence of a thriving retail sector not only means the presence of shoppers who can afford to indulge in luxury products but also increasingly successful executives and entrepreneurs associated with the industry.
Frequent Swanky Hangouts in the cities
Bars and nightclubs have long been popular dating opportunities and the swankier such places are, the wealthier the clientele is likely to be. In Downtown Saskatoon, 6Twelve Lounge is where trendiest party-hoppers in the city can be spotted. Botanica Restaurant and Lounge offers a contemporary décor located in a scenic tropical courtyard in the centre of the Saskatoon Inn while Manos Lounge offers a wide variety of dining choices that range from pizza to seafood. In Regina, the Warehouse District has become a highly desirable night life precinct. The Roof Top Bar and Grill is an upscale casual venue in the city that features American cuisine. A trendy location, stylish atmosphere and international menu have earned La Bodega the reputation of being one of the hippest joints in Regina. Located within the Regina Inn, Vic's is situated within the lobby's lush plant life, waterfalls and rock walls. Rich leather seating, plush banquettes and a comfortable bar sets the scene for Mulligan's lounge which is located within the Ramada downtown.
Explore Affluent Neighborhoods
One of the best ways to run into wealthy singles is to live where they do. In Saskatchewan these are primarily restricted to cities like Saskatoon and Regina. Arbor Creek, Erindale, Briarwood, Arbor Creek, Lakeridge and College Park, Silverwood are some of Saskatoon's most affluent neighborhoods. In Regina the historic and affluent Crescents is one most desirable residential area. In zoning parlance a part of the "Cathedral area," it is a discrete residential zone, its posh 1920s villas, mock-Tudor ambience and large lots immediately to the north of Wascana Creek west of the Albert Street bridge and dam which creates Wascana Lake. Windsor Park, characteristic of both eastern and northern new residential subdivisions is also getting popular with the rising professional class. then there is The increasingly tony Warehouse District with its upscale restaurants and shopping precincts, live music clubs, condominiums and loft apartments which have the advantage of immediate proximity to professional employment venues in the central business district as well as retail outlets in the new Cornwall Centre.
References: