by kalyani10
Though ambitious women have not been represented in popular culture as the most desirable of partners by men, in reality they bring several great qualities to the dating table. A smart, confident personality, a put-together appearance and a can-do attitude are only some of the qualities that attract men to ambitious women. So if you too are thinking of dating one, here are a few tips on how to go about it.

Frequent Professional and business venues

Professional conventions, conferences and exhibitions are some of the places where you are likely to find smart and successful women who wish to excel in their careers. Even if you are not an invitee yourself at these venues you can still be present as a volunteer or as part of the sales/promotional team. Moreover most of these conferences are usually followed in the evening by dinners and other social events which are a networker's delight. You can easily make use of these semi-social occasions to chat up the ladies and see if they are interested in taking things further on a personal level. Banks and convention centers are other places where one can run into rising professional women as they are they wait to cash a check or meet an associate. Another variation of the above venue would be your town's Chamber of Commerce meetings. This is where city professionals rub shoulders, exchange business cards and sip on umpteen cups of free cake. Interactions at most of these meetings tends to be friendly, since many come in order to make business contacts. You can likewise use the relaxed atmosphere to introduce yourself to single-looking professional women who have a good future ahead of them.
TIP: Millionaire Match has many single millionaire women looking for men to date and marry.

Check out the workplace

With more and more women keen on climbing the professional ladder these days, you are sure to find someone single and ambitious at your workplace too. But if you have not had much luck with the ambitious ladies in your own organization, how about tagging along a friend or a cousin working in another company to a social at his office. It will give you more chances of finding a date as compared to parties at your own office where you know most of the women anyway. At office socials you can safely assume that a couple of them at least will have high aspirations in their careers and so you are unlikely to be wasting your time with people of uncertain circumstances. Moreover your pal can give you valuable insider information on what particular ladies to avoid like the one who is in the process of divorcing her fifth husband or someone too high-maintenance for you to afford.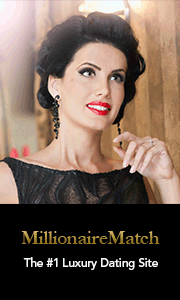 Attend Self-growth workshops
Keep a lookout for any self-improvement workshops that may be taking place in your city. Lectures and seminars on motivational topics are the right place to find smart women who are interested in forging ahead in life. As pressures at the workplace pile up, successful professionals are increasingly coming to the realization that having the right work-life balance is extremely important; thus such events are likely to attract single professional women who are conscious of their overall well-being.
Drop in on Downtown cafes
While bars and nightclubs are common places to pick up a casual date, they may not assure a meeting with single women who are aspiring professionals. Instead you would have a higher chance of chatting up an attractive financier or lawyer at downtown cafes and delis since most of the law offices and most office complexes are located in and around the town center. Moreover these are some of the most favored destinations for a power breakfast or a business negotiation over a coffee. Enjoy a Panini and salad while checking out attractive customers who may have dropped in for a quick bite before heading back to their glass-and-chrome offices buildings.
What is in it for you?
The best part about dating ambitious women is that they bring an energy and vitality to your relationship that is lacking in the more laid-back types. Aspiring professionals or entrepreneurs are smart and aware and they make scintillating company if you are the kind of guy who looks for brains as well as beauty in a date. Moreover if you are dating someone successful, you can enjoy being pampered by an expensive gift, a fine dinner or a vacation at a swanky resort now then, unlike girls who always expect you to pick up the check after a date. Finally if you are ambitious yourself, dating a woman who shares your outlook on life and career can help you understand each other. Even if you are not thinking about a long term relationship right now, being with each other will help you cultivate professional contacts and open up opportunities which may be invaluable in climbing the ladder. You will get to learn the ropes, so to speak, if your partner is herself a success in your own or related field of work.
Be prepared for competition
At the same time though, dating an ambitious woman may involve certain challenges. For one you have to be rather particular about your appearance and lifestyle; if she is keen on nurturing a professional image, she cannot be seen with grungy looking guy or smoking pot at hippie havens. You would need to brush up your appearances and present a well-groomed look so that she feels you are worth going out with in public. Like Successful people, even the aspiring ones are used to being surrounded by the best in their professional and recreational spheres and have high expectations of people around them. Also it is not just enough to look dandy to be eligible as a date; you also need to cultivate an attractive personality and be able to make interesting conversation. Ambitious women always have an eye for opportunity and if she figures she can use your intellectual acuity or your professional expertise for her success, your job is half done.
Challenges involved
While dating an ambitious woman, you will have to be prepared to make some adjustments in your personal life. This may mean her arriving late for your date on more than one occasion or even a couple of cancelled dinners. She would much prefer doing overtime to please her boss or racing ahead of competitors rather than spending a whole weekend with you. Even if your girlfriend is able to meet you for regular dates, she may be emotionally unavailable at certain times. For instance when on a date, she may keep checking her cell phone or PDA since she will be reluctant to miss any phone call or text message from her workplace. Even the parties you attend together are more likely to be geared to her professional interest rather than you both having a good time with each other. So despite being smart, confident and a pleasure to hang out with, such a woman is likely to be a workaholic, pushing herself harder all the while to climb still higher on the professional ladder.
At the end of the day, dating an ambitious woman comes with its own share of pros and cons. While you may have to make room for your partner's priorities that do not necessarily match yours, you can be rewarded with relationship with an individual who is smart, confident and on her way to success.