by kalyani10
Men who are driven by professional success are among those that women find impossible to resist. They are the go-getters of the world, exuding confidence and sometimes not even above using a partner to achieve his ends. Incredibly this only makes them more attractive to some women. So if you to wish for a boyfriend who is keen to climb the ladder, here are a few ways of meeting ambitious men.

Places of business

The most obvious place to come across ambitious men would be professional or commercial venues. Lawyers' chambers, city offices, banks, convention centers, conference halls or hospitals are the places where these driven men would be spending the greater part of their day. Men who are keen to rise to the top do not mind putting in ten to twelve hours of work every day since this is the only sure-shot way of edging out other competitors to the plum promotions. Thus place yourself in these professional or commercial spaces where you are likely to come across aspiring financiers, corporate executives, doctors and politicians. On the other hand you could also explore libraries, concert halls and training grounds where the rising stars of academics, music and sports may spend hours honing their skills.

Be a professional

While it may be easier gaining entry into some venues like banks and libraries, others like highly specialized scientific laboratories or corporate boardrooms may be accessible to professionals only. In such circumstances your best bet of making the acquaintance of a future hot-shot lies in becoming part of the workplace. So look for a company or firm which is reeling in profits every year and then try to find out who you would like to know among the movers and shakers there. It doesn't matter if you don't boast of a college degree or have a mile-long resume - even a summer internship or a part-time shift will do since this will bring you in touch with the men with an eye to the top of your company or workplace. What's more the male go-getters of the world are known to be excited by the prospect of competition or at least pitting wits against an attractive co-worker. Ambitious men are the alpha-males of the modern world and thus no wonder that they are thrilled by idea of challenge and chase.
TIP: Millionaire Match has many ambitious self made men from USA, Canada and Europe looking for women to date and marry.

Frequent likely hang-outs

Ambitious men also spend a good deal of time networking with professional and business contacts so frequent exclusive clubs, upscale bars and high-end health resorts where you can find them willing to socialize. Stylish pubs and cafes around legal chambers as well as the local courthouses bar are a few locations that you can explore if you want to meet the rising stars in the legal community. Aspiring politicians on the other hand can be found at fund-raising dinners or community initiatives while budding financiers and entrepreneurs are more likely to hang out at coffee shops and bars in business districts or the downtown area. Here your go-getter may be busy with work but wait for lunch-hours or coffee-breaks to find time to chat him up and who knows you may land yourself a date over the weekend.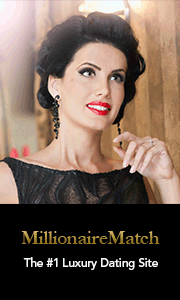 Premium golf clubs
Golf links are popular haunts of successful businessmen and executives where contracts are negotiated and deals are struck which is why guys determined to make it good are often found to be networking here. Memberships to such clubs are generally hugely expensive but see if you can get a day membership. Better still, try to tag along with a rich friend as a guest and then make the best possible use of your opportunity. Again timing is a big factor. Late afternoons on working days or late mornings on weekend maybe the best time for powerful people to practice their power drives.
Professional meetings
Go to places frequented by the serious professionals. Attend lectures, workshops and seminars on variety of subjects. While some of them may allow free entrance for all, the more formal among these may require invitations or at least a fee. See if you can wrangle an invite from a friend or a co-worker. However you can be more or less certain of finding successful people at such events. So, after you have made your choice you can discuss the dangers of global warming over a delicious cup of coffee and plan how to meet again.
Premiers and parties
Events and parties related to the entertainment industry are among the places to be seen at, if a person is said to have arrived on the professional and social scene. So even if a guy is not a part of showbiz, he may still wish to attend such high-publicity events. Even better, movie and theater premieres are the occasions where rising stars of show business can be seen. If you can, try to get hold of an invitation to the hottest post-premiere parties which generally go on till the early hours of morning and thus offer a longer time to socialize. However do your homework before attending such events so that you know who is a genuine actor/producer/singer and who is merely pretending to be one.
Charity galas
Charity galas and fund-raising dinners could be useful venues to meet a man who is determined to make his way into the world. This is because such events are where the rich and successful people gather and if an ambitious guy wants to mingle with the people who matter, he is likely to be found here. The charity benefits could range from the very elite $500 a plate dinners to your local fund raising event for animal shelters. Look around and should you happen to see someone who is chatting up the loaded patrons, wait for him to take a break and then go ahead and ask him why he supports this particular charity.
Millionaire clubs

If you are looking for the big fish, find a way to be seen at the millionaire clubs. These are the places where the really ambitious boys hang out. Cocktail parties and weekend bashes are only some of the events regularly hosted at such venues where the rich and single can take their pick of the attractive ladies. While it may take some hard work to get access to such exclusive venues, once there you have opportunities galore of hooking up with the winners from the world of business and power. But be certai n to look your most seductive as these men are used to having the best.