by kalyani10
Despite popular notions about an ideal relationship, there is nothing wrong if you wish for a partner who can help you afford the finest things of life. While women have traditionally traded their youth and beauty for a comfortable life, now there are many single women who have wealth and power and are also open to relationships with men less successful than them. So if you are man who would like to have a relationship with a successful woman, here are a few places where you can try your luck.

The workplace

The workplace is an ideal place to look for single women who are engaged in successful professions and are making a good deal of money so as to be able to afford a lavish lifestyle. Financial professions like banking and investments, advertising, media, fashion, business and the corporate world are some of the places where you are likely to find successful women professionals. Best of all, these professions involve a great deal of networking which in turn would allow you the right opportunities to meet single and successful women even if you cannot get a job in their company or workplace. However first ensure that you create a good impression on them professionally, before you venture to establish a more personal connection.
TIP: Millionaire Match has many rich women from North America and Europe looking for men they can date.

Professional events

Professional conventions, conferences and exhibitions are other places where you are likely to find smart and successful women who excel in their careers. The advantage that such events have over the workplace is that it is easier to gain entry to the former since even if you are not an invitee yourself you can still be present as a volunteer or as part of the sales/promotional team. Moreover most of these conferences are usually followed in the evening by dinners and other social events which are a networker's delight. You can easily make use of these semi-social occasions to chat up the ladies and see if they are interested in some romantic 'wheeling and dealing' as well.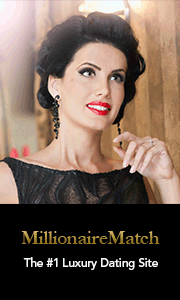 Upscale retail destinations
Women who have both the money and time to indulge themselves are extremely likely to be found frequenting upscale retail stores, shopping to their heart's content. So hang around in sections like apparel, jewelry, footwear, accessories and other luxury products which make a lifestyle statement and you may be lucky to attract the attention of a wealthy shopper. Unlike successful professionals who may be busy adding on to their millions at the office, the women you meet here during the working hours are more likely to be rich heiresses and wealthy divorcees who need to find ways to spend their money.
Meet millionaire men at MillionaireMatch.com.

Charity galas

Most people who have made a fortune in business or careers are actively involved in a favorite cause. This is even truer of rich women who are single and thus free to spend their money as they wish. Fund-raising galas and charity dinners are thus perfect places to meet wealthy women who can afford a rich and young lover. And even if you find most of the rich single women arriving at these $500-a-plate dinners with a partner in tow, most of them will probably be companions just for the evening. So go ahead and compliment the lady on her antique emerald choker and who knows you might end up with an invitation to her penthouse for the weekend.

High-end recreational centers

On the other hand if you don't want to be part of a crowd, yet another great idea to meet rich women would be to frequent places where they go to have a good time. The wealthy not only work hard to earn those millions but also like to play hard. So drop in at fashionable pubs, upscale wine bars or exclusive clubs where they are likely to be found chilling out. If you find entry to these venues too expensive, try to arrive as a rich friend's guest or wait for occasions where you can act as a volunteer. Luxury spas and health resorts are other destinations where you might end up meeting millionaire women, looking to pamper their bodies. The great advantage that these places have over business venues is that people are more relaxed here and thus more open to meet someone interesting and attractive.

Lifestyle events

If you want to catch the eye of the jet-setting unattached ladies, make sure you are present at events where the crème de la crème of society go to see and be seen. Lifestyle events could range from exclusive premieres of movies and promotional parties of luxury brands to high-brow art auctions. Turn out in your best at these venues if you don't want to get overshadowed by all the pretty looking girls and boys who throng these events for practically the same reason as you. Also if you end up attracting the attention of a likely partner, ensure that you highlight some aspect of your personality like a quick wit or high-class sophistication which will set you apart from the many men who are equally eager to snag a wealthy partner. Remember the competition is pretty stiff out there and no matter how persistent you are in your efforts to find a rich mate, you need to give evidence of something extra in order to clinch the deal.

Matchmaking services

If you are truly serious about meeting a rich woman to date, then it may be a good idea to sign up with a matchmaking service for the wealthy. Rich and successful women have a thousand claims on their time and when looking for a mate, they often find it useful to hire the services of a professional matchmaker rather than waste their own time, weeding out undesirable applicants. In fact, if you want to go for something more discrete, there are matchmaking service providers who even offer premium services which ensure privacy and personalized attention. The only catch in making use of a matchmaking service is that a wealthy single would have her own extensive checklist of desirable attributes in a potential partner and would perhaps agree to meet you only if you fulfill those.