by kalyani10
Glamour, good looks and a glitzy lifestyle – dating a celebrity is about all this and more. You not only get to bask in the spotlight as the one who is dating someone famous, but in fact this is a good time to further your profession since it is relatively easier getting access to valuable contacts. However coming across celebrities in comfortable surroundings so that you come off as something more than an eager fan may pose something of a challenge; so here are a few ways you can meet and date a celebrity and get to live the good life.
TIP: MillionaireMatch has many millionaire celebrities looking for single men and women to date

Choose the right profession

One of the ways of attracting the serious attention of a celebrity is to come across them professionally. So choose a job which lands you in regular contact with the rich and famous; this could range from the media to financial and legal services. The former is likely to throw you in touch with celebrities of the entertainment industry like actors, models, singers and performers. You need not strive to make a profession based on any of these talents yourself though many celebrity actors have been known to take upcoming people in their professions as their partners – superstar Tom Cruise started dating Katie Holmes when the latter was yet to make her mark in Hollywood. As a journalist, editor, photographer, publicist, make-up artist, musician or any other professional associated with the media, you will have ample opportunities to meet and mingle with celebrities on a daily basis and if lucky even catch their eye.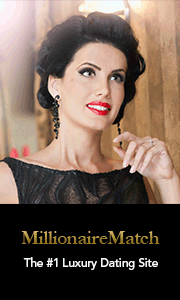 Other professions which celebrities need to interact with every now and then are financial and legal services. The super rich celebrities need an army of people to manage their wealth and invest it appropriately and this is where bankers, investment consultants and insurers come into the scene. Then again celebrities need the right people to through the fine print of their legal contracts which means they are in constant touch with lawyers and legal experts. Working in all these areas will offer you pretty realistic chances of meeting celebrities on a serious basis.
Be a part of the beauty business
Celebrities are almost always high-maintenance people since they are in the eye of the media wherever they go. Those especially related to showbiz need to be turned out well at all times or else they stand to be seen as going downhill professionally. This is reason enough for celebrities to frequent the most upscale salons, spas, cosmetics stores and health clubs in town. And even though the richest actors and models have their own stylists and personal trainers, you might meet quite a number of celebrities if you are a regular at these venues.
Keep up with the looks of the season
For the same reason as above, celebrities of the entertainment industry are extremely fashion conscious – most of them are wary of being labeled as "so last season" and can be find scouting exclusive boutiques and fashion shows in order to pick up the latest trends. So even if do not have what it takes to be a stylist or a designer, you can come in touch with celebrities if you hang out often enough at these haute couture destinations.
Party at the right places
Most celebrities especially those from sports and showbiz are known to be avid party goers – since in this line of work, it is as important to be seen in the right places as it is to be good at what they do. Right places in this case mean trendy and upscale nightspots which have limited entry and VIP lounges apart from exotic cocktails and lavish interiors. If you can manage access to these venues, you stand a good chance of finding a celebrity having a drink at the same bar as you are.
Live where they do
The really high-flying celebrities may be quite wary of chatting up strangers in public places like bars and spas. Those that have been in the spotlight for quite a while have had their fill of screaming hysteric fans and may no longer be eager to entertain admirers from other side of the social divide. The only way through these barriers is then to move in where they live. Being part of their geographical and social landscape will turn you into a familiar figure and you may find the partner of your dreams no longer so distant when you meet him/her at a neighbor's poolside party or the local organic foods store. However if you cannot afford a place at such expensive addresses, consider working as a real estate agent since celebrities are moving in or out of their million-dollar mansions and apartments almost all the time.
Do your homework
If you are looking to date a celebrity, it is not enough to be able to meet them. Remember that they are surrounded and being solicited by admirers – some of them richer than they are – all the time. You need something extra to catch and more importantly hold their attention. This is where the importance of doing your homework comes in. Learn as much as you can about the person you want to snag; some celebrities are attracted to power and influence which all their glamour and beauty cannot buy while others are drawn to plain, down-to-earth people who pose no threat to their own popularity. In fact many celebrities are not even as rich as they appear; they may have heavy mortgages lurking in the background in which case if you have pots of money you stand a good chance of lending a helping hand. Learn about the secret drives about the celebrity you want to date and then give them exactly what they are looking for.
Cast your net wider
Celebrities in show-business have too many wooing them. The combination of good looks, popularity and glamour makes them the first choice for people seeking to hook up with celebrity partners. Consequently they are difficult to meet and when they do, play hard-to-get. Instead look for celebrities in other fields like the arts, charity and the less popular sports. Famous achievers in these areas are not only likely to be more accessible but in fact may even make for a more equitable relationship.