by kalyani10
Dallas is the third largest city in the US state of Texas while also figuring among the ten biggest cities in the entire country. Besides being the economic hub of the Dallas-Fort Worth-Arlington Metropolitan area, the fourth largest of its kind in the country, Dallas is also one of the most important cities in Southwestern United States. Thus if you are eager to meet and date successful single men from Texas, Dallas offers you ample opportunities to do so.
TIP: Browse photo profiles of single rich men in Dallas, USA
Get to the basics

Financial services is today one of major pillars of Dallas' economy. Banks, investment companies and wealth management firms throng the financial sector of the city which is home to several people who can claim to have a net worth of over a million dollars. Little wonder then the bankers, hedge fund managers and investment consultants of Dallas are kept busy adding on to those millions and getting themselves a generous helping of the pie in the process. Even though frequenting the cafes and pubs in the city's central business district in Downtown Dallas may offer you valuable opportunities of mingling with the finance fat cats, a far better idea is to take the search to their own backyard. This implies taking up a job or even a trainee position in investment or financial firms which are most likely to throw you in proximity to the best paid singles in the business. According to Money Magazine, around half of the world's billionaires met their future spouses at work – Bill Gates and Rupert Murdoch being the most famous cases in point.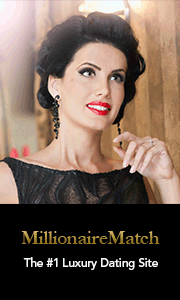 Ring up the rich boys
Yet another mainstay of the economy of Dallas is its telecommunication and information technology sectors. What was started by the Collins Radio Corporation towards the end of Second World War continued well into the later decades and today, Dallas and its suburbs have one of the highest concentration of telecommunication companies in the country. In fact the city is known as the Silicon Prairie, the nerve center of which is the Telecom Corridor along the northern suburb of Dallas which is home to around 5700 telecommunications companies, including major names like Texas Instruments, Nortel Networks, Alcatel Lucent, AT&T, Ericsson, Fujitsu, Nokia, Cisco Systems, Sprint and Verizon Communications. Texas Instruments, a major manufacturer, alone employs 10,400 people at its corporate headquarters and chip plants in Dallas. Moreover the engineers, computer experts, scientists and other professionals employed by most of these companies take home paychecks comparable to even the best paid financiers and managers. So if you are interested in meeting the rich techies, a good idea would be to frequent the cafes and pubs along Dallas' Telecom Corridor as well as the suburbs of Richardson where most of them hang out after work.
Meet millionaire men at MillionaireMatch.com.

Mix business with pleasure

Dallas is also a top destination for business travel and conferences in the country. This is evident from the large number of convention centers which dot the downtown part of the city and among which the Dallas Convention Center is perhaps the most famous. This is a sprawling complex spread over 1,000,000 square feet and includes the world's single largest column-free exhibit hall besides restaurants, cafeterias and recreational centers. Successful business travelers often gravitate to upscale restaurants and steakhouses to dine in a new city and so locate a few that are in proximity to these convention and event centers. And once there, sidle up to the bar and bide your time since this is where most of guests have a drink as they wait for a table. If you are lucky, you might meet someone rich and available with whom you can exchange pleasantries over a couple of martinis.

Browse through Swanky Shopping Arcades

For those millionaire male singles who like to sport the top brands in clothing and accessories, Dallas acts like a magnet. The city is believed to have the highest number of shopping malls per capita than any other city in United States. Some of the shopping destinations most popular with the well-heeled residents of Dallas are the Galleria Dallas as well as North Park Center which is also the second largest mall in the whole of Texas. Among other upscale shopping malls in Dallas are North Park, West Village, Lifestyle Fashion Terminal as well as Highland Park Village which is of course the country's oldest shopping center having been established as far back as 1931. While browsing through these shopping arcades, make it a point to stop at a Ralph Lauren Polo store since according to Cosmopolitan magazine, it's the brand most likely to attract wealthy male shoppers making purchases for themselves. Other luxury brands in men's lifestyle like Calvin Klein, Armani, Coach and Burberry are also good bets if you want to catch the eye of a guy who is rich and single.

Frequent the wealthy neighbourhoods

In order to meet a potential mate who belongs to the jet-setting crowd, you need to live where they do. Some relationship experts advise that even if you cannot afford anything larger than a shoe-box, the advantages that come with living among the rich far outrun the discomforts. In Dallas, you can expect the rich singles to reside in exclusive neighbourhoods like Preston Hollow, Highland Park, Deep Ellum, Kessler Park, Lakewood, South Lake Swiss Avenue, and Turtle Creek, Willow Bend, White Rock Lake and suburbs like Park Cities. Mansions in Preston Hollow are perhaps the most expensive not only in Dallas but in the whole of Texas and houses there can range from $80,000 tear downs to 40 million dollar estates. While living at most of these addresses may be out of question, explore cafes, supermarkets and parks in such neighbourhoods which might offer you valuable opportunities of mingling with affluent singles, for instance, while you are having a late morning latte or walking your dog in the morning.

The long running TV series Dallas of the 1980s showed the city as the city of oil tycoons, powerful ranch owners and ladies with expensive tastes. While its political culture is fairly liberal now and its culture quite diverse, it is still the favourite haunt of the rich and fashionable in this part of the country.