by kalyani10
Women in sports have never had it so good. Not only has the prize money increased in various sports but is often comparable to what their male counterparts are winning. However it is the endorsement deals with reputed brands that has proved the real money-spinner and made the most successful female athletes also some of the richest. Here is a brief introduction of ten of the richest female athletes in the world.

TIP: Browse photo profiles of single rich men and women looking for dates, from USA, Canada and Europe.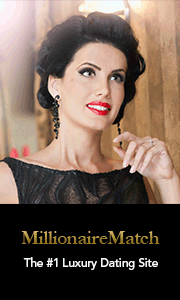 Maria Sharapova

Maria Sharapova may not be on the top of tennis rankings but she certainly rules the roost as far as annual earnings are concerned. The Russian-born female tennis star is believed to take home a cool US$24.5 every year, making her the highest-paid female athlete in the world. Even though she earned US$1 million from prize money in the past year, the chunk of her kitty comes from appearance fees and lucrative endorsement contracts with a slew of blue chip companies Nike, Sony, Ericsson and Tiffany.

The attractive long haired 23 year-old has been romantically linked with several men in the past, including Charlie Ebersol whose biggest claim to fame till then was as the son of Dick Ebersol, an NBC executive and the man behind the launch of Saturday Night Live. Currently Masha appears to be dating Sasha Vujacic, a Slovenian basketball player who wears the number 18 jersey and plays and plays guard for the LA Lakers. According to media reports, Sasha proposed to Maria recently and the latter was seen showing off an engagement ring which experts believe is worth around $250,000.


Serena Williams

The former number one female player on the WTA rankings, Serena Williams is presently the second richest sportswoman in the world. It has been sixteen years now that she made her debut in 1994 and even after more than one and half decades, she is still going strong. Last year, Serena was estimated to make around US$20.2 million, having already accumulated more than US$32.7 million in career prize money, the highest that any woman has ever earned in any other sport. At present Serena is lined up with major brands like for endorsements, the biggest among them being Nike.

29 year-old Serena is the younger of the Williams sister and together they are ranked fifth the WTA doubles. Serena has been romantically linked to several men among whom are rapper turned actor Jackie Long as well as another rapper, Common.

Meet millionaire men at MillionaireMatch.com.

Venus Williams

The elder Williams sister is also a former WTA number one and the first African origin woman to achieve the feat in 2002. Currently Venus holds a 5th WTA singles ranking and 4th in doubles with her younger sister Serena. Venus was believed to take home around US$15.4 million last year and has already earned $27.3 million in career prize money, the second all-time high among female athletes around the world. Among the big names which have signed her on for endorsement deals are Reebok, Nortel Networks, Sega, Avon, Wrigley, Wilsons Leather and Wilson rackets.

30 year-old Venus has been in a long relationship with professional golfer Hank Kuehne. He is often seen accompanying Venus to her matches and cheering for her from the players' boxes. Venus and Serena recently became minority owners in Miami Dolphins and becoming the first African-American female owners of a major NFL franchise.

Lindsay Davenport

The run of tennis players among the highest earning female athletes continues with Lindsay Davenport making an estimated US$22.2 million in the last year. Winner of three Grand Slam singles tournaments and former No 1 WTA rank-holder, Davenport is believed to have earned around $22, 144,735, in career prize money. Other than these there are endorsement deals with major brands like Nike, Sports Authority, Rolex, American Express, Sega, Nabisco, Konami, Wilson rackets.

The 34 year-old reclusive American is married to investment banker and former All-American tennis player, John Leach. The couple has two children, a three year-old boy Jagger Jonathan as well as a toddler, Lauren Andrus.

Danica Patrick

Professional car racer Danica Patrick owes a place among the richest female athletes on account of her US$12 million pay last year. Patrick is arguably the most popular female racer in the IndyCar circuit but the chunk of her earnings come from a lucrative contract with her team Andretti Autosport which allows her a share of team revenues. Patrick's fortunes received another fillip with her entry into NASCAR Nationwide Series for JR Sports and though her start has been far from inspiring, the added attention has helped her to cut a better deal with sponsors like GoDaddy.com, Peak Antifreeze and Tissot.

Patrick is married to Paul Hospenthal, a physical therapist and personal trainer who has worked with athletes from all major sports. The two met when Danica was referred to Paul in 2002 after she had hurt in the hip during a yoga session. They got engaged on Thanksgiving Day in 2004 and a year later, they married in a private ceremony at Scottsdale, Arizona.

Kim Yu-Na

Figure skating champion and 2010 Olympic gold medalist, Kim Yu-Na is the richest female athlete in her sport. Her annual income is estimated to be in the range of US$9.7 million. Kim has an impressive line-up of endorsement deals with Hyundai, Nike and Samsung Electronics while her chief sponsor is Kookmin Bank which reportedly took out insurance on the one million dollar bonus it promised Kim if she topped her world record score at the Vancouver Olympics. And true to expectations, Kim did.

The twenty year-old South Korean beauty trains in Toronto where she also lives with her mother in a South Korean neighborhood. Nicknamed "Queen Yu-Na" by her adoring fans, by now she is quite used to being mobbed wherever she goes. In fact according to her coach Brian Orser, being part of Kim Yu-Na's entourage was something "like travelling around with Princess Diana".

Annika Sorenstam

The highest paid professional female golfer, Annika Sorenstam is believed to make around US$8 million a year besides topping the LPGA's career money list with earnings of over $22 million. She has not only won 72 official LPGA tournaments including ten majors and 18 other tournaments internationally but is also the all-time leading points earner in the Solheim Cup. Apart from the huge amounts that she earns from prize money, Annika is also suitably taken care of by her sponsors like Callaway, Cutter and Buck, Lexus as well as Role.

40 year-old Annika is of Swedish origin even though she lives in Orlando, Florida. She has been married twice. Her first husband was David Esch who she met in 1994 on the driving range at Moon Valley Country Club, Phoenix, Arizona. At the time she was an LPGA rookie practicing for a tournament while David worked for club manufacturer Ping. They were engaged the next year at the Evian Masters and married after two years in Lake Tahoe on 4 January 199. However the couple divorced in 2005. Two years later, Annika began dating Mike McGee, the managing director for the ANNIKA brand of businesses and son of former PGA Tour and Champions Tour player Jerry McGee. The couple were married at Lake Nona Golf & Country Club in Orlando, Florida on January 10, 2009 and the same year they became parents of their first child, a daughter named Ava Madelyn Mc Gee.

Ana Ivanovic

The racket apparently rules when it comes to the highest grossers among the ladies in sports. Ana Ivanovic, a former number one tennis player and currently ranked 17th on WTA is believed to make around US$7.2 million a year. Till date she has earned $7,720, 382 in career prize money and her annual income is more than adequately supplemented by sponsor Adidas as well as by an impressive endorsement portfolio which includes names like Rolex, Juice Plus, Verona Motors and Yonex rackets.

The 23 year-old Serbian beauty began playing tennis apparently upon being inspired by former tennis champion and co-patriot Monica Seles. Ivanovic has been romantically linked to several sportsmen among whom are Spanish tennis player Fernando Verdasco as well as Australian golfer Adam Scott. She has also admitted to being a fan of Roger Federer, admiring the latter's professionalism both on as well as off-court.

Jelena Jankovic

Jelena Jankovic made news in 2008 as the first woman tennis player to be ranked number one in WTA without winning a single Grand Slam event in the year. However she continues to enjoy great financial clout as is evident from her yearly earnings which are in the range of US$5.2 million. Besides accumulating career prize money worth $11,569,440, Jankovic snagged a lucrative deal with leading Chinese sportswear brand, Anta Sports. She also appears in endorsements for companies like Prince Sports, Aqua Viva Hydroactive Water and Orbit.

Jankovic has been linked romantically with Jamie Murray but she brushed away the reports in an interview. In 2008, she admitted to being in a relationship with Montenegrian water polo player Mlađan Janović and said that they had been dating since the 2008 Summer Olympics.

Paula Creamer

Another professional golfer to figure among the richest female athletes in the world, Paula Creamer is estimated to take home an annual pay of US$5.2 million. She is not only the reigning US Open Champion but has won eleven professional tournaments including 9 LPGA Tour events. Creamer is believed to have made at least $7.7 million in career prize money even as she holds several lucrative endorsement deals with companies like TaylorMade-adidas, Citizen Watch, NEC, and the Royal Bank of Scotland Group.

The 24 year-old blonde has a fondness for wearing the color pink because of which she has been nicknamed the "Pink Panther". Even though Creamer has been romantically linked with several men including Ben Roethlisberger as well as Oobgolf golf blogger Andrew Brown, nothing has ever been confirmed by her.