by kalyani10
As the capital city of South Australia and the fifth largest city of the country, Adelaide has one of the highest rates of economic growth Down Under. It has been ranked as the most livable city in Australia by the Property Council of Australia in 2011 and also figures among Top 10 of The Economist's World's Most Livable Cities index in 2010. So if you are looking for partners who are willing to date in style, Adelaide is one of the best places to start your search.
TIP: MillionaireMatch has many single rich men from Australia looking for women to date and marry.

Look up the health and social services sector

Remember how your mother always told you to marry a doctor. Apparently, this piece of advice is more relevant than ever when you are looking for eligible men in Adelaide. This is because health and social services sector currently ranks as the top employment sector in the capital city of South Australia. In fact it is estimated that health care and social assistance represented nearly 13% of the state average annual employment. One of the earliest and best known of Adelaide's hospitals is the Royal Adelaide Hospital which was founded as far back as 1840 and is today a teaching hospital of the University of Adelaide. Among other large hospitals in the Adelaide area are the Women's and Children's Hospital located on King William Road in North Adelaide, the Queen Elizabeth Hospital in Woodville, the Flinders Medical Centre located in Bedford Park and in the northern suburbs as well as the Lyell McEwen Hospital in Elizabeth. These hospitals are also associated with medical schools of the city. Recently the State Government announced a series of overhauls to the health sector which includes the construction of a new 800-bed hospital as well as major upgrades to the already existing ones. All these facts are proof that there exists in Adelaide a large army of doctors, surgeons, paramedics and other high-paid professionals of the health sector. If you are interested in meeting them, you could hang out at the cafes and diners in the hospital areas where most of the healthcare professionals might drop in for a quick bite. A better way to meet these rich single men might be to attend social dos, fund-raising events or even open conferences organized by various hospital or the healthcare industry.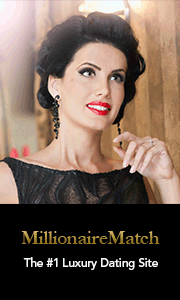 Meet the big-wigs of manufacturing sector
The other major contributor of Adelaide's economy is the manufacturing sector. Almost half of all cars produced in Australia are made in Adelaide at the General Motors Holden plant in Elizabeth. Electronics manufacturing is also important with Adelaide hosting over 40% of Australia's high-tech electronics industry which designs and produces electronic systems that are sold worldwide for applications in medical, communications, defense automotive, food and wine processing and industrial sectors. So if you can, strike up the acquaintance of executives, engineers, accountants and other highly-paid professionals who are employed in the manufacturing sector in Adelaide many of whom are likely to be rich. In fact you can even try your luck with the single wealthy men who own manufacturing companies and businesses. For this it would be a good idea to frequent places of business like banks, convention centers, conference halls in Adelaide's city center which is the main financial district and where some of the important areas are the King William Street and North Terrace. The Adelaide Convention Center is a great place to browse through, even if you are not date-hunting, in part because of its amazing location next to the River Torrens.
Meet millionaire men at MillionaireMatch.com.

Get to know the guys in uniform

Adelaide is home to a number of crucial military establishments which are related to defense manufacturing, technology and research. According to an estimate as much as seventy-two percent of Australian defense companies are located in Adelaide, ranging from strictly government-controlled institutions to fully private enterprises and even multinational companies. Most of these establishments are located in the Edinburgh Parks, adjacent to RAAF Base Edinburgh as well as in or near Technology Park. So when in Adelaide look out for professionals working with major names like BAE Systems, Lockheed Martin Australia, SAAB Systems and Raytheon. And while the engineers and executives of government-owned Australian Submarine Corporation and Defense Science and Technology Organization may not make as much money as their counterparts in the private sector, the perks and privileges may be more lucrative in the end.

Frequent the upscale hangouts

Adelaide has one of the most colorful nightlife in this part of the country. So if you are looking to be wined and dined in style, make it a point to frequent the upscale establishments. One of these is Universal Wine Bar. Usually patronized by the connoisseurs of fine spirits, this place attracts well-heeled clients who know their reds and whites. If however you are looking for some fast action, then head to the Skycity Casino where the wealthy come to roll the dice and play with money. With bands, bars and dining, elegant Skycity offers an all round entertainment venue and even if you are not the gaming kind at heart, you are sure to have fun here. Yet another hangout of the smart set in Adelaide is the Crown and Sceptre with its chic décor, live performances, happening bands and djs, an extensive list of cocktails as well as great food. On the other hand if you are looking for something more sophisticated, the place to head for in Adelaide would be the Art Gallery Restaurant where wealthy patrons take a break from their artistic musings to indulge in some fine-dining in a simple yet elegant ambience. The Sugar Club is popular destination for the young and hip crowd. Located in the middle of the café-culture strip of the city, this fashionable club serves up some of the best dance beats in town with the DJs playing cutting-edge stuff in progressive house, soulful dance and speed garage and you'll come across many rich men. Since the club is favorite spot for the trendy and chic, you need to dress appropriately to gain access but once in there you can have your fill of the best music, men and martinis.